Big Softies Coloured Nappies

$29.95
125127
Category: Cloth Nappies
Size: 8pk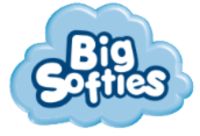 STOCK AVAILABILITY
ONLINE
DINGLEY VILLAGE
RINGWOOD
Calculate Item Shipping Fee
STOCK AVAILABILITY
ONLINE
DINGLEY VILLAGE
RINGWOOD
Description:
This pack of 8 Big Softies colourful premium combed cotton terry nappies is a must have for every parent with a new bub. They are super absorbent and can be used everyday for a multitude of uses.
They are available in 2 colour options.Pink, Purple, Aqua and Green or Red, Yellow, Green and Blue.
Please call the store if you would like a particular colour option.